Medicare Advantage plans can be a wonderful way to get your Medicare benefits, and more and more people are using them. However, circumstances can change over time. And you may want to switch your Medicare Advantage Plan.
From January 1 – March 31 each year, if you're enrolled in a Medicare Advantage Plan, you can switch to a different Medicare Advantage Plan or switch to Original Medicare (and join a separate Medicare drug plan) once during this time. This is known as the Medicare Advantage Open Enrollment Period (MA OEP).
It's very important to note that the MA OEP is only for people who already have a Medicare Advantage plan. In other words, you can't use the Medicare Advantage Open Enrollment Period to switch from Original Medicare to Medicare Advantage.
During MA OEP, you can make the following changes:
Switch Medicare Advantage plans
Drop Medicare Advantage plan coverage and return to Original Medicare
Add a standalone Part D drug plan if you drop Medicare Advantage coverage
Any changes you make to your coverage during MA OEP will become effective on the first day of the month following the change. During the MA OEP you can switch from a Medicare Advantage plan that doesn't have drug coverage to one that does (a MAPD plan).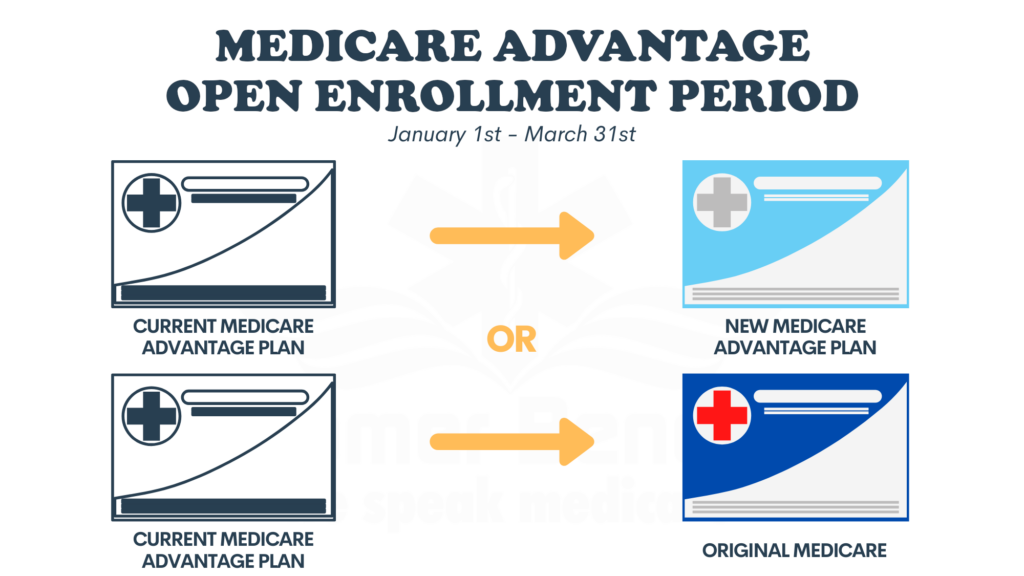 Since you can drop your Medicare Advantage coverage during this enrollment period, you have a second opportunity to get Medicare Supplement (Medigap) coverage if you want it, but it may need to be underwritten, meaning there will be health requirements to be accepted.
What can't you do? 
Switch from Original Medicare to a Medicare Advantage Plan.
Join a Medicare drug plan if you're in Original Medicare.
Switch from one Medicare drug plan to another if you're in Original Medicare.
It's important to understand and be confident in your Medicare coverage choices. If you have a Medicare Advantage Plan and want to change your plan, check out your options today. Remember, this Medicare Advantage Plan Open Enrollment Period ends March 31.